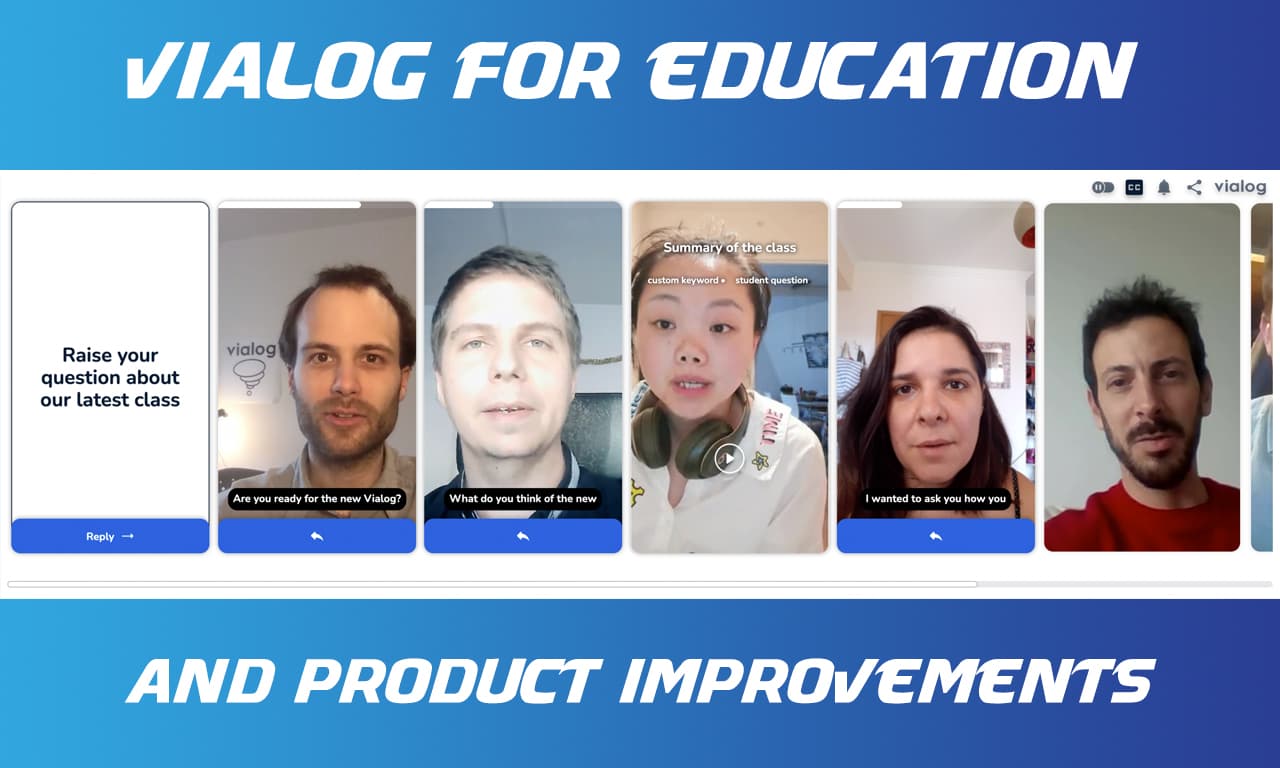 Vialog, the video opinion use case of ARTICONF, received a funding award from the UK's innovation agency, Innovate UK, under the Sustainable Innovation Fund to fuel its research and development and aid the education sector with innovative learning solution.
In the first section of this blog post, we introduce Vialog's problem-solution matrix in higher education. The second section of this blog post describes Vialog's technical changes during the first half of 2021. These developments are relevant today, when "the pandemic opened the door for video opinion discussions".
Vialog in Education
The Opportunity in Learning
In response to the COVID-19 pandemic, the shift towards online digital learning affected over 2 million students in the UK, who encountered difficulties engaging in online classes compared to face-to-face teaching modalities.
The COVID-19 pandemic has severely impacted 2.38 million students within the UK higher education sector, with universities facing a loss of £2.6 billion revenue and 30 thousand jobs. (THE (Times Higher Education), April 2020 )
Two-thirds of students reported insufficient contact with their lecturers. During the first semester of remote learning, there has been an 11% drop in the students who felt able to access online learning material sufficiently to complete their studies. The students rating online schooling as being of good quality have also dropped by 10%. (NUS (National Union of Students) Coronavirus and Students Survey phase II, September 2020)
How Vialog provides value for education
Students' comments, questions, and doubts
Students can submit short (under one minute) videos directly linked to an exact timestamp of any lecture video, allowing lecturers to respond to the entire class. These 'timed comments' are micro-videos thematically linked to specific parts of lecture videos, which can help students work together to complete the course material.
Discuss lectures anytime
Attaching video comments to learning materials improves the searchability of lecture content as thematic threads and lets students 'raise their hands' whenever questions arise. Asynchronous tools aid remote learning by increasing student interactions with course material, teachers, and their peers.
Be available but save time with FAQ
Existing learning management systems, like Moodle, Blackboard, and Canvas, can easily integrate Vialog's tool and enhance interactivity, populating these platforms with unique student-generated videos matching class materials in the context of an audiovisual virtual group experience.
Increase student interaction with online course materials
Vialog is building an easy-to-use interactive video tool to address the changing needs of digital learning environments and ease the increased workload of academics, helping to improve teaching outputs. Vialog's innovative video discussion tool allows students to interact with the course material and enhances remote teaching and learning.
Vialog is an asynchronous video tool that increases interactions between students and teachers. With accessibility features and video transcripts, the tool helps educators meet the UK accessibility requirements for public sector bodies of pre-recorded audio and video.
Transform physical classes into virtual classes
Lecturers need support to deliver courses engagingly and effectively while ensuring that all students are active and have an equal chance of learning.
Vialog increases student activity with direct, visual, and personalised interactions between the lecturers and their students.
​​Vialog established pilot partnerships with the University of Roehampton in 2021. The Business School (the largest school in the university) was at the forefront of testing the Vialog edTech (education tech) features and provided feedback incorporated on the product roadmap. Roehampton integrated Vialog within Moodle, the university's learning management system.
One of the use cases used Vialog and Panopto (the university's default video-recording and editing app) for different parts of the same assessment revision (for example, preparation for exams). During 50 days, Vialog video discussion recorded 241 unique sessions and Panopto 98 unique students. Since Vialog does not rely on user accounts nor tracks browsers (fingerprinting), these analytics use individual browser loads and sessions without indexing them to students' identities. The students played Vialog videos 4.4 times per session on average, although Panopto had a 19% increased total view time. The modular quality of Vialog videos meant a more focused student engagement.
Although both contents' total length was around 20 minutes on day 50, Panopto provided a one-to-many format. At the same time, Vialog supported a collaborative discussion consisting of 13 different videos shorter than a minute about the assessment revision.
The surveyed participating students typically found the Vialog videos helpful and expressed their desire to have more topics covered with Vialog.
Technical improvements
The Vialog team used customer and pilot feedback to improve its video discussion use case, seeking broader societal and environmental impacts.
The Beta release of the Vialog v2.0.2 tool includes the new embeddable tool, rebuilt in React. Vialog created a brand new React implementation of the embeddable tool (ported from native javascript) for providing a better user experience and performance. The ground-up rebuild has allowed them to remove most limitations identified in the tool's previous version and create a more modular, scalable and flexible solution. The codebase has become much more maintainable and reliable, easier to develop and integrate added features.
The new embeddable tool achieves a 15-20 times faster load on websites. The team has implemented a skeleton screen that appears in less than 100 ms. The resizing of the embedded tool became quicker and more precise. The new UI can manage its display height by modifying the embedding iframes' height, using post messages to remain optimised. The recording process is faster: video opinion creators can submit the video without replaying it and browse the website while submitting the video. More seamless video viewing is possible with gapless autoplay, enabling the user to view the videos one after another in a format that closely resembles a virtual discussion. With domain whitelisting, the conversations are more secure, and with improved shareability features, Vialogs can reach more people more effortlessly than ever.
Another area of significant improvement represents accessibility. Vialog aims for fully accessible video discussion. By design, the timezone-proof discussions provide flexibility to the participants. Asynchronicity occurs when discussions do not happen in the same place or at the same time for everyone. The asynchronous format accommodates different schedules and time zones, reducing "the fear of missing out" and inequality. As a next step to improve accessibility, the team developed automated transcripts for the async video discussions with easily adjustable, machine-assisted transcripts. Keyboard controls are additional accessibility features introduced.
The other focus is sustainability. Vialog believes climate change is everyone's business and is proud to take concrete steps to protect our environment. As part of the core company values, Vialog voluntarily offsets its greenhouse gas emissions, making it a Net Zero emissions company from 2020. Vialog went further and upgraded for a Climate Positive Workforce, which assigns every person in the organisation a carbon footprint offset for their work in the company. The carbon footprint includes employee's time at work, business travel, and time outside of work.
Vialog's Climate Positive Discussion promise means the company compensates for the carbon footprint of all video opinion discussion threads using Gold Standards' GHG protocol and Ecologi (using verified emission reductions). Vialog estimates the carbon footprint of a given discussion thread using the following formula: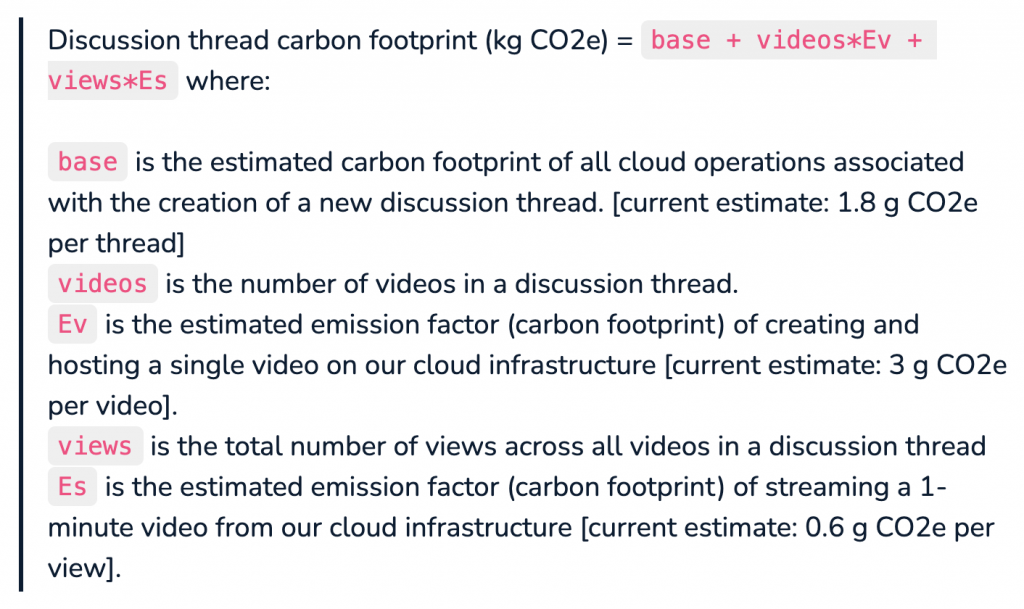 Vialog also launched the one thread one tree program, committing to plant one tree for each new discussion thread on Vialog. Vialog achieved 8.85 tonnes of carbon reduction with monthly supported qualifying projects managed by Ecologi and planted 248 trees. Learn more about Vialog's commitment to the environment.
The Vialog team develops solutions for a fully accessible and sustainable video opinion discussion using ARTICONF tools: TIC, SMART, CONF and TAC.
Start your own Vialog video discussion for free. You can follow Vialog on Linkedin and Twitter.
This blog post was written by the Vialog team in August 2021.
< Thanks for reading. We are curious to hear from you. Get in touch with us and let us know what you think. >