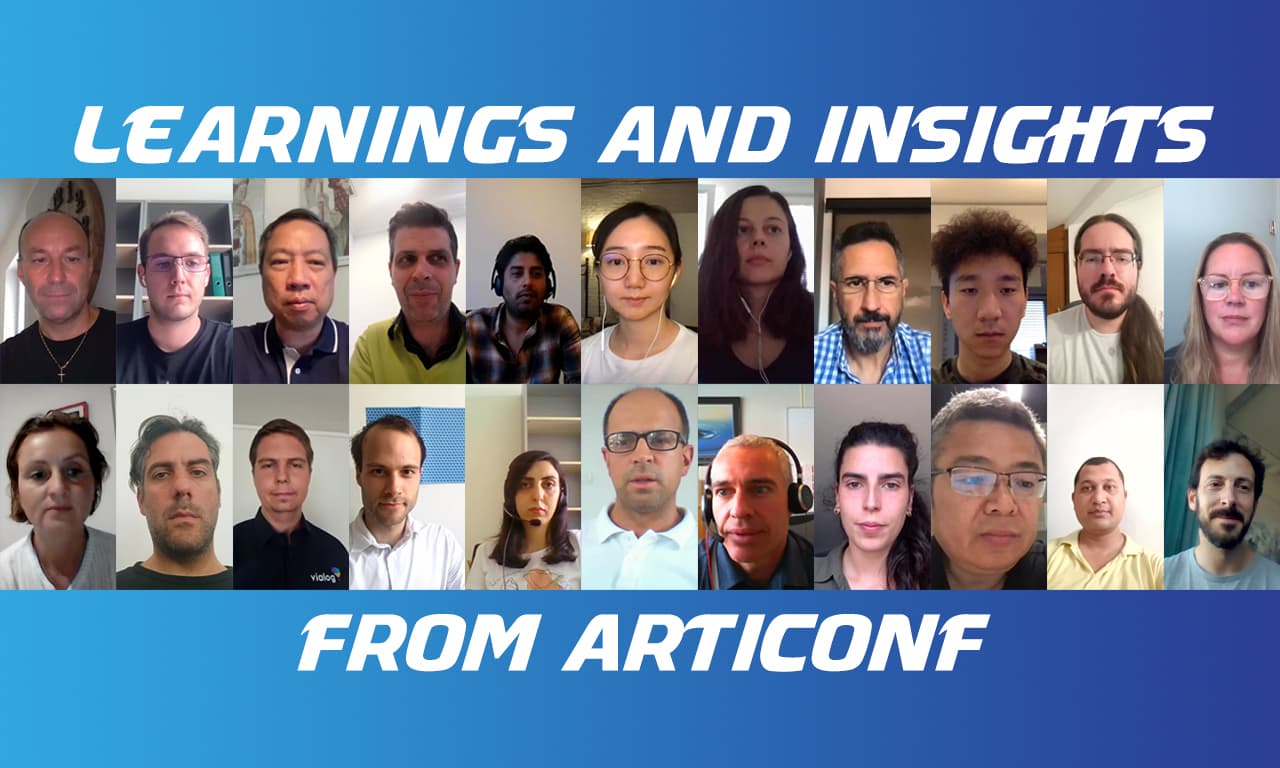 An Interview with Project Coordinator Prof. Radu Prodan.
As the ARTICONF project grant ends this summer in June 2022, we discussed with the project coordinator Radu Prodan about the learnings and outcomes of the project. In January 2019, a group of computer scientists, technologists and sociologists comprising four European academic universities, one SME and three startups started working on the ambitious ARTICONF project funded by EU Horizon H2020, focused on realising a decentralised social media platform.
Radu Prodan is a full professor at the University of Klagenfurt, Austria, and leads a research group on Distributed and Parallel Systems.
In this blog, we present excerpts of the interview with Prof. Prodan.
How do you define ARTICONF today? Has the motivation changed from where you started in January 2019?
This question is interesting! We all know there has been an exponential increase in people's online engagement regardless of age, gender, or nationality through popular social media platforms. When we started the project initially, our focus was primarily on end-users, and rightly so! We all know that popular social networks such as Facebook, Twitter, LinkedIn, WeChat, or TikTok are monolithic platforms hosted on centralised Cloud data centres and controlled by a single company. This central ownership model raises trust issues and increases concern for data security, privacy, transparency, and false content propagation. Typical examples are fake identities engaging in controversial discussions or deliberately communicating low-quality manipulative information that spreads quicker and attracts more audiences than credible sources.
However, as we progressed further, we realised it would be wrong to blame only social media providers for the problems. From a social media provider's point of view, the current infrastructure setup is not ready yet to support such decentralised principles.
Interesting! Can you please elaborate on what you mean by infrastructure setup?
By infrastructure, I mean software tools for creating and deploying a decentralised social platform, their portability and interoperability across Cloud infrastructures beyond proprietary boundaries.
Were you able to eradicate the challenges you mentioned?
ARTICONF indeed initiated a step forward. To mitigate such challenges, we developed Decentralised Social Applications (Social DApps) based on blockchain technology that present good potential to create a secure and practically inviolable Social Continuum. Such applications connect billions of people under no centralised control and safely allow them to share information using democratic consensus protocols. To support the development and automate the operation of social DApps, we developed a Blockchain-as-a-Service (BaaS) hosted on federated Clouds and integrated with personalised and interactive analytics services.
Can you briefly describe the DApps that ARTICONF currently supports?
Currently, we support four socially relevant DApps. First, the Crowd Journalism DApp allows regular citizens to capture live videos during an event and stream them in real-time, creating comprehensive joint event footage that accommodates diverse angles and perspectives, with integrated fake news identification and filtering.
Second, the Carsharing DApp creates a social network of personal (consumable) cars, rented and shared by passengers directly from their owners. DApp proposes a trustworthy, reputation-based consumer-to-consumer business model and transparent pricing, eliminating intermediary Taxi companies operating centralised fleets.
Third, the Video-Opinion Discussion DApp complements crowd journalism by engaging citizens in continuous, timezone-proof democratic opinion discussion threads and generates tamperproof video lifecycle events on a decentralised, federated Cloud platform.
Finally, Energy Marketplace DApp brings energy providers and consumers together by developing a federated renewable energy trading platform offering trustworthy and incentivised energy usage, selling and buying features.
What are the technologies that support these DApps? Can you briefly describe them?
ARTICONF BaaS consists of four open-source tools that support the development, federation and deployment of trustworthy, secure and scalable Social DApps. Although a small number of platforms (e.g. Steem, Akasha) addressing similar goals exist, ARTICONF is the first European open-source initiative that builds its solution on a Cloud-agnostic BaaS federated infrastructure.
The base of the ARTICONF platform is the Trust and Integration Controller (TIC) tool, a Cloud-agnostic BaaS deployed on a federated Cloud infrastructure, currently connected to OpenStack, AWS and Google Cloud. TIC facilitates transparent, secure, reliable and interoperable Social DApp development on a permissioned Hyperledger Fabric blockchain service.
The second tool is the Co-located and Orchestrated Network Fabric (CONF) which provides a suite of microservices for planning, provisioning, monitoring, and adaptation of a customised federated Cloud infrastructure to time-critical Social DApps.
The third tool is the Semantic Model with self‐adaptive Autonomous Relevant Technology (SMART), which provides a personalised knowledge-as-a-service that augments the DApp network for collaborative and participatory decision making.
The fourth tool is Tools for Analytics and Cognition (TAC), which provides guided analytics services using cognitive and interactive visualisation techniques to enhance engagement between DApp providers and users.
How do you see ARTICONF making an impact in the future?
ARTICONF promotes a consumer-to-consumer business model, resembling the "good old market" in a peer-to-peer social setting, in a time (centuries ago) when no giant companies held monopolies, controlled prices, and manipulated customers. To be precise, we have already started making a few impacts in validating our DApps and ARTICONF platform in the real market.
We tested and validated the Citizen Journalism DApp at the Jungfrau-Marathon 2021 in Interlaken, Switzerland, one of the most demanding marathons in the world, gathering and engaging hundreds of journalists and users. Around 200 participants streamed the event from their mobile phones to the ARTICONF BaaS platform, generating over six hours of coverage and over 500 views on a designated YouTube channel. Other events covered by the Crowd Journalism DApp are the Jornal de Notícias "Porto Book Fair", the "Jump Around" hip-hop concert and Extinction Rebellion's environment event in Porto.
The Video-Opinion Discussion social DApp generated over three thousand social video opinions over twelve communities on essential societal topics, such as Hungarian academic freedom, education and knowledge exchange, equality, diversity and inclusions, digital divide, climate, employment, and political elections. The ARTICONF tools produced over 16 thousand moderation events to support these discussions. The use case operator Vialog (https://vialog.io) of this DApp is a Net Zero emissions company that recently launched the "one thread, one tree program" to plant one tree for each new discussion thread.
Similarly, the carsharing social DApp called Trango ("trip and go") launched a market testing campaign with the European EGI-ACE and ReachOut projects gathering feedback from over 500 users resulting in five new functionalities.
In terms of impact, ARTICONF is making its mark from technology to socially relevant issues, and it's my firm belief that this trend will continue.
Final Question: ARTICONF in one sentence?
"ARTICONF is a Cloud-agnostic Blockchain-as-a-Service for Social Continuum."
Epilogue
Questions from partner projects.
EUNOMIA

— Is blockchain performance essential for ARTICONF's scalability?
It is one of the main issues we have tried to tackle in the project. When we talk about users in social media, our concern is their high number and quality of experience. In other blockchain networks, the more users involved in the network simultaneously, the lower performance we get, impacting how the users perceive the service.
For example, in the car-sharing and carpooling use case, people expect a short response when dealing with payments, service evaluation and reputation with many concurrent users. All of these concepts lay on the blockchain network. Low performance in the network leads to a poor user experience and requires improving the network's throughput while keeping high availability. These features enable the DApp design with a high blockchain interaction rate without decreasing the quality of the service (QoS).
EUNOMIA — How easy would it be to integrate the ARTICONF tools for crowd journalism into a social media platform like EUNOMIA?
The crowd journalism use case of ARTICONF complements the approach of the EU project EUNOMIA. Crowd journalism in ARTICONF focuses on the validity of content creation and production processes, while EUNOMIA targets content spreading over common social media channels. Therefore, using EUNOMIA's tools in a subsequent step in the media value chain couples both ecosystems to improve the integrity of end-user content.
HELIOS — As said, ARTICONF is a European open-source initiative. Assuming that I'd like to create my own DApp, where do I find source codes to begin with?
You need to access the ARTICONF GUI to exploit and use our platform, which is publicly accessible.
Our Deliverable D6.4 provides a detailed design of the ARTICONF ecosystem portal with graphical monitoring tools.
HELIOS — You mentioned challenges in infrastructure setup. How do you see the relation between mobile and desktop environments for Social DApps now and in the future?
Mobile devices are crucial for user-centred interactions and innovations in social media and IoT applications. The connectivity between mobile devices to the cloud services and among mobile devices is often the bottleneck to high-quality user experiences. Unlike desktop computers connected via wired cables, we must consider users' location, the data traffic capacity, and various content policies when provisioning cloud infrastructure for mobile applications.
AKASHA — What forms of value creation can we unlock, and how do we fund the transition from an advertisement business model in web2 to a value transacting business model in web3? Is there an acceptance that not everything is for "free" and we need to become critical agents of our data instead?
I don't think this is a matter of unlocking new forms of value creation. Companies are the main drivers of technological services adopted by the masses. However, private businesses have little incentive to create paid services in markets with free alternatives. In addition, companies profit from their monopoly over siloed ecosystems they can fully control and monitor. This monopoly ensures greater retention, network effects, and thus attention time from individuals – hence, more significant ad revenue and data extraction capabilities. I believe social media's importance in today's world requires public ecosystems. Importantly, not being private is not equal to government control. States cooperate, sacrifice control and even fund independent transnational entities when this is strategic and beneficial for harmonious international relations. Such entities limit individual states and allow dealing with issues at a level beyond the singular nation-state. Good examples are supranational and intergovernmental organisations such as the European Union and the European Central Bank. The acknowledgement of a public, not-for-profit social media ecosystem not controlled by any particular state may be a fundamental right in today's world. Such an ecosystem would rely on infrastructure publicly funded by states but democratically controlled by civil society organisations.
< Thanks for reading. We are curious to hear from you. Get in touch with us and let us know what you think. >