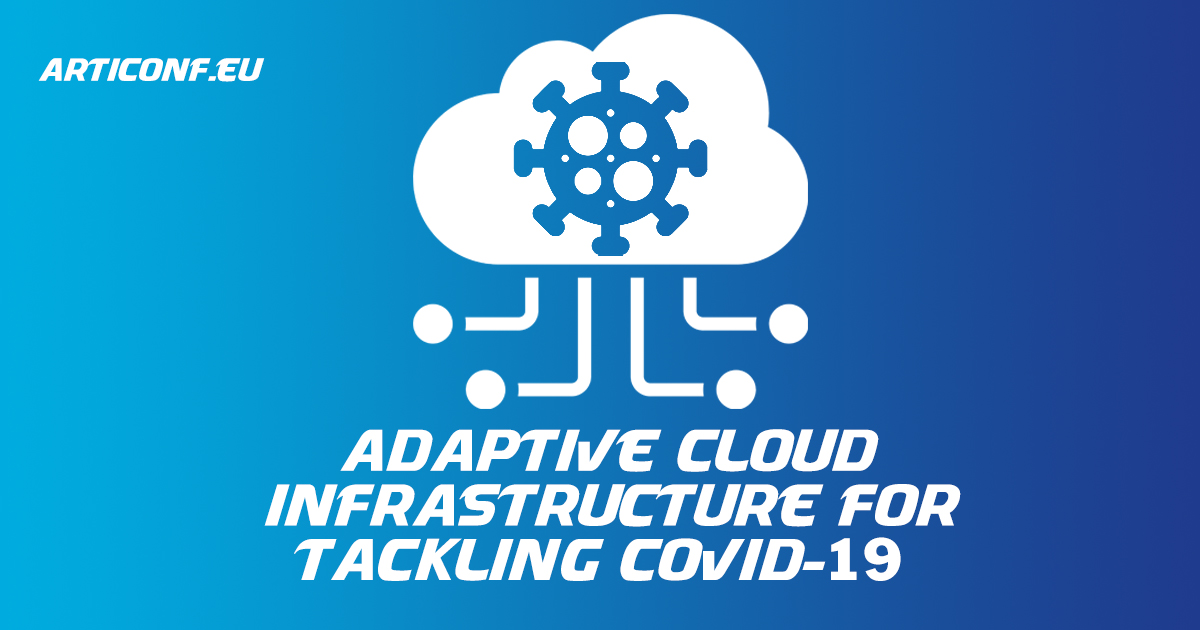 In recent months, the COVID-19 pandemic brought people's attention to global issues concerning important public health and social problems. One of the crucial issues associated with COVID-19 is security and privacy in data management. As people are bombarded with information coming from big social media platforms like, Google, Bing, Baidu or CDC, they do not always know whom to trust. People are also unaware of whether or not their personal information has been collected, as these platforms fail to properly notify users about this. Many people would ask: where is health data stored, who can use them, is my personal information well protected?
To answer the above questions, we highlight the challenges of the ongoing COVID-19 crisis and two cutting-edge technologies that aptly may help with those issues: the fields of Cloud computing and blockchain.
Challenges of the COVID-19 pandemic
As follows we list some common issues of the coronavirus.
Hard to manage the massive volumes of health data from different countries in the world (big data management).
Hard to earn the public's fullest trust. From the perspective of users, a surveillance or health data management system's internal players – such as companies, governments or research institutions – are not usually regarded as fully trusted entities.
Health data security threats. Examples of external attacks range from network eavesdropping and vulnerability scanning to malware attacks.
User privacy threats, which involve data leakage, unauthorized access, data loss and user privacy breach. Every nation has its own regulatory framework.
Fake news and misinformation spread via social media. As COVID-19 continues to spread worldwide, so do fake news and misinformation, which can go against the efforts for containing further outbreaks.
To handle the above issues, many tech companies, government agencies, news media, research institutions and universities are cooperating in the active development of applications for fighting the coronavirus using cutting-edge digital technologies.
Cloud infrastructures for the coronavirus
Cloud computing plays a significant role in the responses to COVID-19. It provides a platform for big data management and enables healthcare organizations, research institutions, governments and individuals to access data easily. It supports the usage of AI and machine learning for data analysis and consequently may assist in diagnosis, clinical care and prevention.
AWS has built the COVID-19 data lake, containing a collection of up-to-date COVID-19 related datasets. It is hosted on AWS cloud and freely available to everyone. More specifically, it gathers COVID-19 case tracking data and testing data, hospital bed availability and research data from various sources. Cerner's HealtheDataLab, which stores and secures de-identified COVID-19 patient data accessible to select U.S. health systems and academic research centres, is also powered by AWS.
Google has announced the general availability of the Cloud Healthcare API to help the healthcare industry manage and get insights into medical data from a range of sources by improving data interoperability. It is aimed at enabling real-time, unified healthcare data exchange. COVID-19 National Response Portal, an open data platform running on Google Cloud, enables healthcare providers to share metrics from hospital systems, such as ICU bed supply and utilization; ventilator supply and utilization; total numbers of positive, negative, and pending COVID-19 test results and so on. Besides, it is helping healthcare organizations study COVID-19 with a pre-hosted repository of public healthcare datasets.
Microsoft has deployed several cloud-based services running on Microsoft Azure to help in addressing COVID-19. It is offering the Healthcare Bot service to organizations on the frontlines of the COVID-19 response, such as the U.S. Centers for Disease Control and Prevention (CDC), to screen patients. It also allows organisations to quickly build and deploy applications that give people access to health-related information. Examples of such organisations are Providence, Walgreens, Virginia Mason Health System, and Novant Health.
Microsoft has created a COVID-19 Tracker on Bing, providing a map of real-time COVID-19 cases around the world. Adaptive Biotechnologies Corp. is currently collaborating with Microsoft to find the relevant immune response signature from blood samples to advance COVID-19 research. The data will be available through an open data access portal on the Azure cloud platform.The UK's National Health Service (NHS) has released a contact tracing app supported by VMware to track the spread of COVID-19. The app is intended to track people's physical contact with each other and send alerts to those who had been in close contact with infected ones.
Blockchain-based applications for COVID-19
Blockchain, thanks to its openness, anonymity, and decentralized nature, is also being explored as a tool to deal with COVID-19. Its distributed structure collects the stored data in a secure and tamper-resistant manner. Blockchain technology enables health data to be updated in real-time on each network node and share information to the public while guaranteeing the full privacy of data subjects.
With its traceability and tamper-proof feature, blockchain has been used for tracing the movement of the coronavirus. For example, Hyperchain's blockchain-based charitable donation tracing platform Shanzong can track supply donations of medicines in the hospitals of central China and strengthen transparency and public trust in donations. The Italian news agency ANSA developed the ANSAcheck based on the EY OpsChain to fight against fake news.
Another interesting use case is the MiPasa project. MiPasa provides an open platform for attested coronavirus data built on Hyperledger Fabric. The goal is to support better-informed decisions to support a humane, fair and more sustainable battle against the coronavirus pandemic via powerful analytics and privacy tools. "MiPasa is designed to make it possible to synthesize data sources, address their inconsistencies, help identify errors or misreporting and seamlessly integrate credible new feeds", Gari Singh (CTO, IBM Blockchain – IBM Cloud and Cognitive Software) and Jonathan Levi (CEO of HACERA & The Unbounded Network) wrote in a blog on 27 Mar 2020. This platform is based on the IBM Blockchain Platform and IBM Cloud, and chances are high that they would bring new opportunities for the post-COVID-19 era.
This blog post was written by The University of Amsterdam team in June 2020.
< Thanks for reading. We are curious to hear from you. Get in touch with us and let us know what you think. >