ARTICONF DATATHON — 21 April 2022
< What >
The ARTICONF Datathon is a competition organised by the ARTICONF project. The aim of the datathon is to foster the analysis of the project data sets, to uncover new insights about its decentralized social media ecosystem.
< When >
It will take place on the 21st of April (Thursday). During the datathon, teams will be able to communicate with the project members, use their own tools to perform their analyses and submit their results by the end of the day. A detailed schedule will be shared with selected participants.
In the final session, each team will have 10 minutes to explain their approach and main findings. The winner will be announced at the end.
All times below are CEST (Brussels time). If you are unsure about your local time, please reference this: https://bit.ly/37mD7nn
Event Kickoff (10:00 – 10:30)

Team formation (10:30-10:45) For those who want to participate in a team but don't yet have one.

Datathon (10:45 – 17:00) Collaboration around the given existing datasets

Presentations  (17:00 – 18:00)

Winners announced and closing session (18:00 – 18:15)
< Where >
https://us02web.zoom.us/j/83964808214?pwd=U3Q2OGJrcEJGZlhGTk9KbmN1UmRaUT09
👆 Join the virtual room anytime during the day or email david@articonf.eu for support 👆
< Who can participate >
The ARTICONF Datathon is open to participation to any team from anywhere in Europe, composed of a maximum of five members. Teams can be composed of individuals associated with private companies, universities, research institutes, public entities, associations, etc. The competition is not open to staff working in EU institutions and agencies.
< How to participate >
To participate, you (and your teammates, if you have any) have to register on https://articonf.eu/datathon
< What are the awards >
All participants will receive a Raspberry Pi, but the presentations and findings with the biggest impact will receive even more awards. Vouchers for Raspberry Pi devices at a total value of €2,000 and five annual Vialog.io subscriptions will be awarded.
ARTICONF Datathon is organised by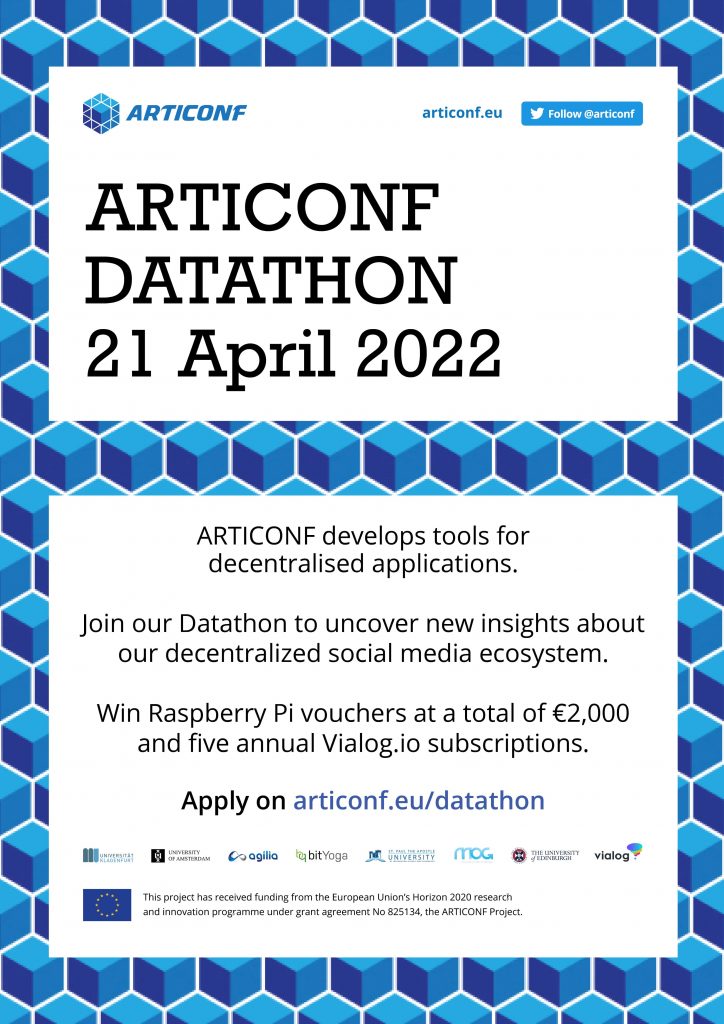 Please share this page, this tweet or this LinkedIn post with anyone else who you think would like to participate.
We are curious to receive your application. Fill in the application form on top of this page now to secure your place.
You can get in touch directly with the Datathon organisers if you have any question: